It is the largest country in South America, stretching from the Amazon Basin in the north to the Iguazu Falls in the south. The Brazilian coastal zone covers 7,367 km of shoreline and has 37 ports, including river and sea ports.
The maritime port activity is under the responsibility of the Directorate of Ports and Coasts (DPC).
DIRECTORATE OF PORTS AND COASTS (DPC)
The Directorate of Ports and Coasts is responsible for: 
Inspect, in matters of National Security and in accordance with international agreements in force, the activities of the National and Foreign Merchant Marine.
To establish the conditions of access, permanence, docking, transit and departure of national and foreign merchant ships, in relation to ports, anchorages, territorial waters and contiguous zone.
Supervise the use of maritime and terrestrial facilities, public or private, in relation to navigation, national interests and National Security. 
MISSION
To represent the Maritime Authority in the regulation and inspection of matters related to Navigation Safety, Merchant Marine, Maritime Professional Education and Prevention of Water Pollution caused by vessels, in order to contribute to the development of Maritime Empowerment.
VISION
To be a reference, until 2027, in the exercise of the Brazilian Maritime Authority, acting in favor of the expansion of its blue economy in a safe, qualified and sustainable manner.
MARITIME CHRONICLES
By: Capitán de Mar y Guerra Ricardo José Cimino. Dirección de Puertos y Costas (DPC)

As of January 1, 2021, the International Maritime Organization (IMO) has established that all bulk seed cargoes must be analyzed and certified by a laboratory accredited by the country's Maritime A

...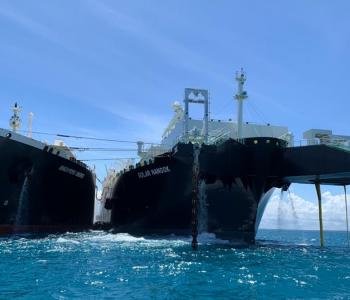 By: Vanessa dos Santos Luna. Asistente del Departamento de Trafico de Embarcaciones y Asistencia y Rescate
What are Ship To Ship (STS) operations and where do they occur?...